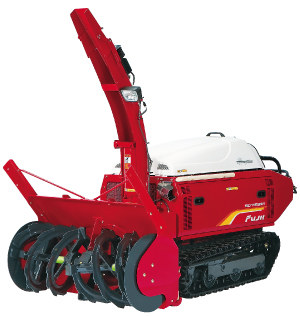 SD1125S2-z
Maximum output 25 ps / 24.9 hp
Clearing width 1100 mm / 43.3 inc

Functionalities
Features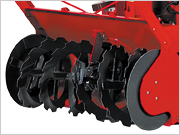 Hugely Destructive Auger
All "Fujii Snow Rotary"s are two-stage snowblower and equipped with a large-diameter augers. The augers are supported at both sides. It gives the augers hugely destructive power.

Double-Support Track Roller
The track rollers of large- and medium-size machines are supported at both sides to ensure stability.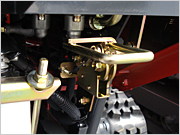 Blower brake release lever
You can release the blower brake with lever to replace the shear bolts easily.

Redesigned the top cover
*Employs a pressed top cover with an innovative design to further expand the operator's front view.

Features for operability and safety
*Foot light : equipped light for foot area. Useful for night work.
*Reverse buzzer : sounds to caution when reversing.
*Warning horn : honk the horn to warn people
*HST Zero Start : the HST lever returns to the stop position when the driving clutch is OFF to avoid a sudden start.

Specifications
SD1125S2-z
Engine
Model
Yamaha EH72
Type
Air-cooled G
V2 cylinders
Maximum output

18.6 kW / 25.0 PS / 24.9 HP
Fuel tank capacity
25.0 L / 6.6 gal.
Start-up system
Starter motor
Displacement
720 cc
Performance
Clearing width
1100 mm / 43.3 in
Clearing height
680 mm / 26.8 in
Maximum clearing capacity
140 t/h
Maximum throw distance
25 m / 27.3 yd
Snow removing part
Lift
Hydraulic
Rolling
Hydraulic
Chute adjustment
Electric
Dimensions
Total length
2540 mm / 100.0 in
Total width
1110 mm / 43.7 in
Total height

1960 mm / 77.2 in
Total weight
680 kg / 1499.4 lbs
Travel section
Speeds
Hydraulic / Variable speed
Crawler width
230 mm / 9.1 in
Side clutch
Dog clutch
Option
| Photo | Product name | Remarks |
| --- | --- | --- |
| | Short Chute | |