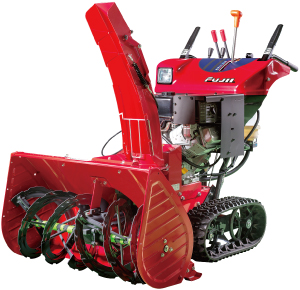 *The picture is Sk810MX-z
Sk810MX-z
Maximum output 10 ps / 9.9 hp
Clearing width 800 mm / 31.5 inc
Sk810M2-z
Maximum output 10 ps / 9.9 hp
Clearing width 800 mm / 31.5 inc
Sk708M2-z
Maximum output 8 ps / 7.9 hp
Clearing width 710 mm / 28.0 inc

Functionalities
Features

New chute"Miracle Throwing" (for Sk810MX-z)
Large increase of throwing distance!

New chuter can throw Any snow; fresh snow,lingering snow and so on. You can easily throw snow over the wall.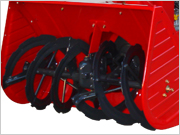 Hugely Destructive Auger
All "Fujii Snow Rotary"s are two-stage snowblower and equipped with a large-diameter augers. The augers are supported at both sides. It gives the augers hugely destructive power.

Industry's first small snowblower equipped with wet clutches
*Newly equipped wet clutches enable smooth swiveling by pulling the lever.

Easy operation
*The chute is easily adjusted with an electric lever.
*Operation speed is controlled steplessly with the HST lever. Smooth switching between forward and backward.
*The auger part is moved up and down effortlessly with a power-assist lever.

Specifications
Sk810MX-z
Sk810M2-z
Sk708M2-z
Engine
Model
Mitsubishi GB300LE-801
Mitsubishi GB290LE-801
Type
Air-cooled G 1 Cylinder
Maximum output

7.4 kW / 10.0 PS / 9.9 HP
5.9 kW / 8 PS / 7.9 HP
Fuel tank capacity
6.0 L / 1.6 gal
Start-up system
Starter motor
(Recoil)
Displacement
296 cc
Performance
Clearing width
800 mm / 31.5 in
710 mm / 28.0 in
Clearing height
570 mm / 22.4 in
Maximum clearing capacity
60 t/h
50 t/h
Maximum throw distance
20 m / 21.9 yd
Snow
removing
part
Lift
Electric
hydrauric
Lift lever
(Free lock)
Rolling
-
Chute adjustment
Electric
Dimensions
Total length
1470 mm / 57.9 in
Total width
800 mm / 31.5 in
710 mm / 28.0 in
Total height
1195 mm / 47.0 in
Total weight
184 kg / 405.7 lbs
173 kg / 381.5 lbs
169 kg / 327.7 lbs
Travel section
Speeds
Hydrostatic/Variable speed
Crawler width
150 mm / 5.9 in
120 mm / 4.7 in
Side clutch
Wet clutch
*Figures in parentheses for clearing height apply when the optional extension auger housing or auger housing guard is mounted.
*The dimension with the deflector folded down is the actual measurement.
Option
Photo
Product name
Remarks
Side marker (1 piece)
Seat cover
Auger housing guard
Sk810M2-z
Sk810MX-z
Auger housing guard
Sk708M2-z