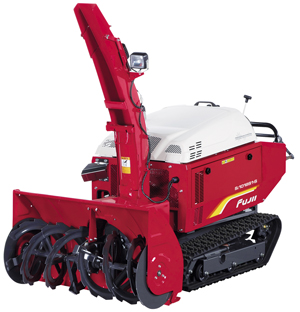 Si1022S1
Maximum output 22.0 ps/ 21.7 hp
Clearing width 1000 mm/ 39.4 in.

Functionalities
Features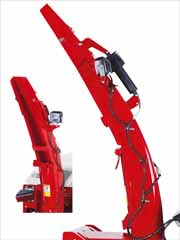 New chute"Miracle Throwing"
Large increase of throwing distance!

New chuter can throw Any snow; fresh snow,lingering snow and so on. You can easily throw snow over the wall.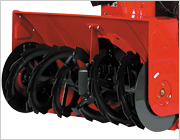 Hugely Destructive Auger
All "Fujii Snow Rotary"s are two-stage snowblower and equipped with a large-diameter augers. The augers are supported at both sides. It gives the augers hugely destructive power.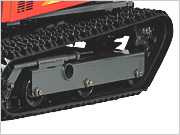 Double-Support Track Roller
The track rollers of large- and medium-size machines are supported at both sides to ensure stability.

High reliability & enhanced features
*"Easy" button: Automatic operation buttons for "Snowmatic" (Maintain collector at horizontal position automatically. Makes snow throwing easy for everyone) and "Back Auto Lift" (Collector raise automatically at reversing to avoid dragging snow)
*HST zero start: HST lever return to stop position when driving clutch is off to avoid a sudden start.

Specifications
new!!
Si1022S1

Engine
Model
Subaru EH65
Type
Air-cooled G
(V 2 cylinders)
Maximum output

16.4 kW / 22.0 PS / 21.7 HP
Fuel tank capacity
25.0 L / 6.6 U.S.gal
Start-up system
Starter-motor
Displacement
653 cc
Performance
Clearing width
1000 mm / 39.4 in
Clearing height
570 mm / 22.4 in
Maximum clearing capacity
128 t/h
Maximum throwing distance
25 m / 27.4 yd
Snow removing part
Lift
Hydraulic
Rolling
Hydraulic
Shooter adjustment
Electric
Dimensions
Total length
2070 mm / 81.5 in
Total width
1000 mm / 39.4 in
Total height
(with deflector folded down)
1685 mm / 66.3 in
Total weight
433 kg / 954.8 lbs
Travel section
Speeds
Hydraulic/ Variable speed
Crawler width
200 mm / 7.9 in
Side clutch
Dog clutch
*Figures in parentheses for clearing height apply when the optional extension auger housing or auger housing guard is mounted.
*The dimension with the deflector folded down is the actual measurement.
Option
| Photo | Product name | Remarks |
| --- | --- | --- |
| | Extension auger housing | |
| | Side marker(1 piece) | |