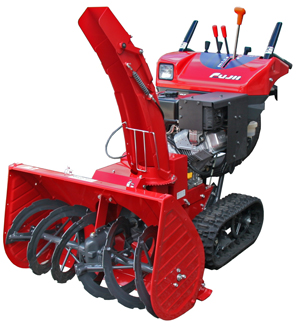 Sk810MX
Maximum output10ps/9.9hp
Clearing width800mm/31.5inc
Sk810M1
Maximum output10ps/9.9hp
Clearing width800mm/31.5inc
Sk708M1
Maximum output8ps/7.9hp
Clearing width710mm/28.0inc

Functionalities
Features

New chute"Miracle Throwing" (for Sk810MX)
Large increase of throwing distance!

New chuter can throw Any snow; fresh snow,lingering snow and so on. You can easily throw snow over the wall.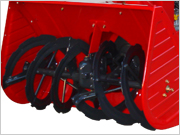 Hugely Destructive Auger
All "Fujii Snow Rotary"s are two-stage snowblower and equipped with a large-diameter augers. The augers are supported at both sides. It gives the augers hugely destructive power.

Industry's first small snowblower equipped with wet clutches
*Newly equipped wet clutches enable smooth swiveling by pulling the lever.

Easy operation
*The chute is easily adjusted with an electric lever.
*Operation speed is controlled steplessly with the HST lever. Smooth switching between forward and backward.
*The auger part is moved up and down effortlessly with a power-assist lever.

Specification
Sk810MX
Sk810M1
Sk708M1
Engine
Model
Mitsubishi GB300
Mitsubishi GB290
Type
Air-cooled G 1 Cylinder
Maximum output

7.4kW / 10.0PS / 9.9HP
5.9kW / 8PS / 7.9HP
Fuel tank capacity
6.0L / 1.6gal
Start-up system
Starter motor
(Recoil)
Displacement
391cc
Performance
Clearing width
800mm / 31.5in
710mm / 28.0in
Clearing height
510mm / 20.1in
Maximum clearing capacity
60t/h
50t/h
Maximum throw distance
20m / 21.9yd
15m / 16.4yd
Snow
removing
part
Lift
Electric
hydrauric
Lift lever
(Free lock)
Rolling
-
Chute adjustment
Electric
Dimension
Total length
1470mm / 57.9in
Total width
800mm / 31.5in
710mm / 28.0in
Total height
1195mm / 47.0in
1160mm / 45.7in
Total weight
184kg /405.7lbs
173kg / 381.5lbs
169kg / 372.6lbs
Driving part
Speeds

Hydrostatic/Variable speed

Crawler width
150mm / 5.9in
120mm / 4.7in
Side clutch
Wet clutch
*Figures in parentheses for clearing height apply when the optional extension auger housing or auger housing guard is mounted.
*The dimension with the deflector folded down is the actual measurement.
Option
Photo
Product name
Remarks
Side marker (1 piece)
Seat cover
Auger housing guard
Sk810M1
Sk810MX
Auger housing guard
Sk708M1