SH913MRA2
Maximum output13ps/12.9hp
Clearing width900mm/35.4inc
SH913MR2
Maximum output13ps/12.9hp
Clearing width900mm/35.4inc
SH913ML2-S
Maximum output13ps/12.9hp
Clearing width900mm/35.4inc

Functionalities
Features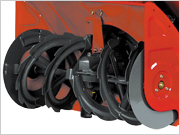 Hugely Destructive Auger
All "Fujii Snow Rotary"s are two-stage snowblower and equipped with a large-diameter augers. The augers are supported at both sides. It gives the augers hugely destructive power.

Automatic Driving Speed Control
*SH913MRA2 is equipped with the function, controingl driving speed automatically by snow condition.


User-friendly buttun,"Easy" buttun
*Push the buttun. It control automatically "Snowmatic"and "Back Auto Lift" .
(For SH913MRA2 and SH913MR2)

Features for operability and safety
*HST Zero Start : HST lever return to stop position when driving clutch is off to avoid a sudden start.
*Independently-movable working part keeps the steering wheel at a constant height, and it makes a operator keep comfortable position.
*It adopts boat-shaped crawler that is effective to move backward.

Specification
SH913MRA2
SH913MR2
SH913ML2-S
Engine
Model
Mitsubishi GB400
Type
Air-cooled G
1 cylinder
Maximum output

9.6kW / 13.0PS / 12.9HP
Type
6.0L / 1.6gal
Start-up system
Starter motor
Displacement
391cc
Performance
Clearing width
900mm / 35.4in
Clearing height
570mm / 22.4in
Maximum clearing capacity
80t/h
Maximum throwing distance
18m / 19.7yd
Snow
Removing
part
Lift
Electric hydrauric
Rolling
Electric hydrauric
-
Chute adjustment
Electric
Dimention
Total length
1680mm / 66.1in
Total width
900mm / 35.4in
Total height
1600mm / 63.0in
Total weight
307kg
/676.9lbs
305kg
/672.5lbs
295kg
/650.5lbs
Driving part
Speeds

Hydrostatic/variable speed

Crawler width
200mm / 7.9in
Side clutch
dog clutch
*Figures in parentheses for clearing height apply when the optional extension auger housing or auger housing guard is mounted.
*The dimension with the deflector folded down is the actual measurement.
Option
| Photo | Priduct name | Remarks |
| --- | --- | --- |
| | Extension auger housing | |
| | Side marker (1 piece) | |
| | Seat cover | |