MDP1408M
Maximum output8.0ps
Maximum Clearing width1400mm

Features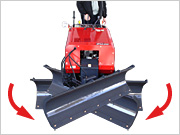 Plow angle can be adjusted up to a maximum of 45 degrees to the right or left. Clearing width can be adjusted to 980 – 1400 mm according to the plow angle.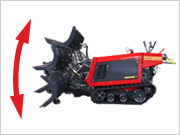 Plow wrist angle can be adjusted between -1.5 and 70 degrees. Since the adjustment can be done simply by operating the lever, the Snow Plow enables you to remove snow easily even from rough areas.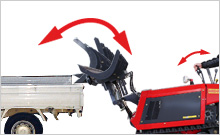 You can move the plow part up and down to dump the removed snow by operating the lever. The maximum lift height is designed to be as high as 800 mm for easy loading of light trucks with removed snow.

Specification
Model
MDP1408M
Machine dimension
(total length x total width x total height) (mm)
1952 x 1400 x 1027
Machine weight(kg)
400
Transmission steps
HST stepless transmission
Engine
EngineModel
Mitsbishi GM291L
Engine type
Air-cooled single cylinder OHV Gasoline Engine
Maximum output
kw(PS)
5.9
(8.0)
Type
Cell starter
Snow removing part
Clearing width(mm)
980 - 1400
Maximum clearing height(mm)
400
Swing angle
45 degrees (each to the left and right)
Lift angle
-1.5 – 70 degrees
Maximum left height(mm)
800
Maximum lift weight(kg)
100
Lift/ swing
Hydraulic
Dump angle
-70 degrees
*The specification and appearance may be revised for improvement without notice.