SF1244DK2-A
Maximum output44ps/44.6hp
Clearing width1200mm/47.2inc

Functions
Features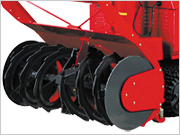 Powerful and Clear
All "Fujii Snow Rotary"s are two-stage snowblower and equipped with a large-diameter augers. Snowmatic plus(automatic horizonatal and vertical auger control) and Back autolift(automatic auger rasing at reversing) makes you removing snow like a professional. (only SF1244DK2-A)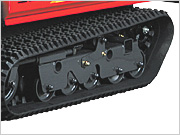 Double-Support Track Roller
The track rollers of large- and medium-size machines are supported at both sides to ensure.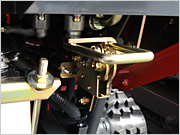 Blower Brake Release Lever
You can release the blower brake with lever to replace the shear bolts easily.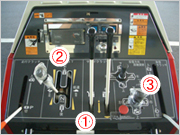 Three-Point Deadman
You can engage the clutch with gripping 1)Loop handle, 2) HST lever or 3) Hydraulic lever.

Specification
MODEL NAME

SF1244DK2-A

Engine
Model
Kubota V2203-EDM
Type
Water-cooled D
4 cylinders
Maximum output

32.4kW / 44.0PS / 43.5HP
Fuel tank capacity
25.0l / 6.6gal
Start-up system
starter motor
Displacement
2197cc
Performance
Clearing width
1200mm / 47.2in
Clearing height
700mm / 27.6in
Maximum clearing capacity
275t/h
Maximum throw distance
30m / 32.8yd
Snow removing part
Lift
Hydrauric
Roling
Hydrauric
Chute adjustment
Electric
Dimension
Total length
2720mm / 107.1in
Total width
1210mm/ 47.6in
Total height

2010mm / 79.5in
Total weight
1105kg / 2436.5lbs
Driving part
Speed
Hydraulic / Variable speed
Crawler width
300mm / 11.8in
Side clutch
Wet clutch
*All the diesel engines comply with the vehicle emission standard.
Option
| photo | Product name | Remarks |
| --- | --- | --- |
| | Short chute | |
| | Extension auger housing | |