SA708MX1
Maximum output8ps/7.9hp
Clearing width680mm/26.8inc
SA706MX1
Maximum output6.3ps/6.2hp
Clearing width680mm/26.8inc

Features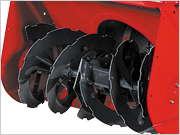 Hugely Destructive Auger
All "Fujii Snow Rotary"s are two-stage snowblower and equipped with a large-diameter augers. The augers are supported at both sides. It gives the augers hugely destructive power.

Simple and handy snowblower for home use
*The clearing width is 680 mm/26.8inc. Two types of engines (6.3 ps and 8 ps) are available.
*The auger height can be adjusted with a foot pedal.
*Snow throw direction and distance can be set by moving the steering wheel and levers.
*The engine is started by stater motor (SA708MX1) and recoil starter (SA706MX1).
*SA708MX1 has headlamps equipped as standard equipment.

Specification
SA706MX1
SA708MX1
Engine
Model
Mitsubishi GB180
Mitsubishi GB290
Type
Air-cooled G 1 cylinder
Maximum output

4.6kW / 6.3PS / 6.2HP
5.9kW / 8PS / 7.9HP
Fuel tank capacity
3.6l /0.9gal
6.0L / 1.6gal
Start-up system
Recoil
Startermotor
(Recoil)
Displacement
181cc
296cc
Performance
Clearing width
680mm / 26.8in
Clearing height
450mm / 17.7in
Maximum clearing capacity
37t/h
50t/h
Maximum throw distance
15m / 16.4yd
Snow removing part
Lift
Foot
Rolling
-
Chute adjustment
Manual
Dimension
Total length
1370mm / 53.9in
Total width
680mm / 26.8in
Total height

1050mm / 41.3in
Total weight
105kg / 231.5lbs
129kg / 284.4lbs
Driving part
Speeds
Friction wheel/Variable Speed
Crawler width
120mm / 4.7in
Side clutch
-
*Figures in parentheses for clearing height apply when the optional extension auger housing or auger housing guard is mounted.
*The dimension with the deflector folded down is the actual measurement.
Option
| Photo | Product name | Remarks |
| --- | --- | --- |
| | Side marker (U-shaped) | |
| | Seat cover | |
| | Headlamp | SA706MX1 |
| | Auger housing guard | |