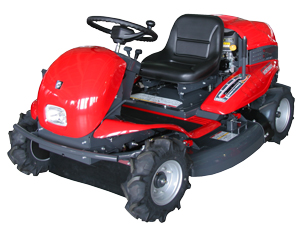 ME1022X1
Maximum output 19.2 ps /
Mowing width 970 mm

Features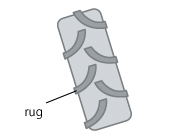 Large diameter front tire
"ノ"shape rug pattern prevents the machine sides-lipping at circling. Ground contact area is up 7%.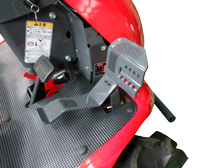 Easy foot-pedal
You can drive in a comfortable position.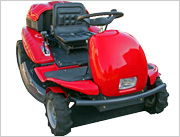 Dynamic proportion
The machine controls the damages for the orchard and trees. Further more it works and goes with the least resistance. The flat step and sheet with sliding and spring make comfortable position.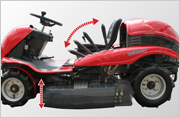 Variable mowing height control lever
The lever makes easier control of mowing height.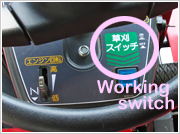 Electric mowing clutch
You just push the working switch to start mowing.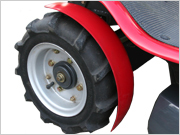 Wraparound prevention equipment
The fender prevent grass from twining inner front wheel.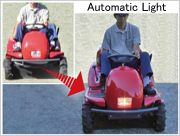 Automatic light(option)
The light turns off at light place automatically. On the other hands, it turns on at dark place, for example garage, deep grass place.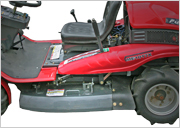 High tinsel strength steel flame & working cover
The working cover is hard to change the shape and the body flame is stronger and lighter than ordinary pipe flame because of using high tinsel steels. Also you can
control the opening height of the working cover on 3 steps.

Diff-Lock pedal
A diff-lock pedal makes safety when you work on slopes and irregular grounds.

Other equipments
* Emergency stop switch: The switch quickly makes the machines to stop.
* Hour meter: It makes you know when to maintain the machine.

Specifications
Model
ME1022X1
Engine
Model
Kawasaki FS651V
Displacement(ml)
726
Type
Air-cooled V-twin
OHV Gasoline Engine
Net output (kw/PS)
14.1 / 19.2
Start-up system
Starter motor
Fuel tank capacity
(L /U.S. gal /UK gal)
14 / 3.68 / 3.08
Mowing part
Mowing width (mm/in.)
950 / 38.19
Type of blade
1stay and 2 movable blades
Mowing height (mm/in.)
0 - 80 / 0 - 3.15
Work clutch
Belt tension and work brake which is interlocked with the work clutch
Driving part
Drive system
No-stepped HST with sub transmission and differential lock
Speed
(km/h)
Forward
High: 0 – 10.0
Low: 0 - 5.8
Backward
High: 0 – 6.0
Low: 0 – 3.5
Base carrier
Front
4.00 -7(φ350)
Rear
16 × 7.00 - 8 (φ400)
Steering system
Round handle with rack & pinion
Dimensions: total length x total width x total height (mm/in.)
1930 × 1100 × 910
75.98 X 43.31 X 35.83
Total weight(kg/lb)
308 / 679.02
Others
Head light
Standard equipment
(option: automatic light)
Battery type
30A16R
Maximum work capacity(a/h)
80
Maximum angle of inclination
(degree)
Less than 15
*The specification may be revised for improvement without notice.
Option
| Photo | Product name |
| --- | --- |
| | Traction hook |
| | Seat cover |