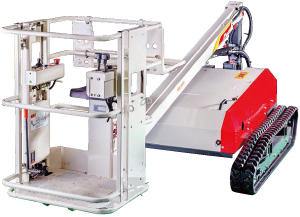 HE350

Features

Making a more comfortable environment

The amount of exhaust gas is cut down and the machine noise is quieted down. You can use the machine in the plastic greenhouse and closed environment without regard to the exhaust gas.

Work with electricity

●Continuous working time(full charge) : 3-3.5 hours

●Charging time : 12-14 hours


You can charge from a household wall socket.

Simple operation

● You can operate the travel lever by one hand for going forward, backward, and turning. Pivot turning is also possible, demonstrate high driving force in the field.

● Boom up / down and turning operations can be performed with a single lever.

Specifications
Model
HE350
WORK
PLATFORM

Maximum loading capacity
100 kg / 220.5 lbs.
Platform height
260 mm - 3500 mm / 10.2 in. - 137.8 in.
Moving range *1
3560 mm / 140.2 in.
Turning angle of boom*2
27 degrees to each of left & right
DIMENSIONS
Total length
3315 mm / 130.5 in.
Total width
1300 mm / 51.2 in.
Total height
1260 mm / 49.6 in
Total weight
755 kg / 1664.5 lbs
TRAVEL SECTION
Speed change
Variable change without steps
Speed
Forward
1.8 km/h
(0.9 km/h with the boom up)
Backward
1.8 km/h
(0.9 km/h with the boom up)
Base carrier
Crawler
(width: 180 mm / 7.1 in.)
*1 This distance is of the center of the work-platform when the boom is horizontal.
*2 The maximum angle of inclination for use is 5 degrees.