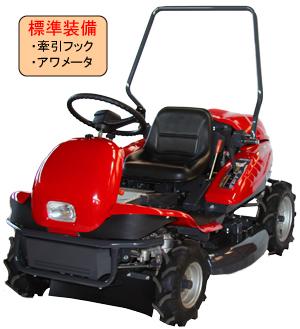 MG1022X
Maximum output19.2ps /
Mowing width (mm)970mm

Features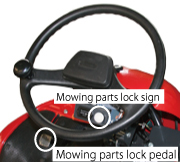 Mowing parts lock pedal & Mowing partsl lock sign
Mowing parts rise to the upper mowing position by stepping on the Mowing parts lock pedal. It makes you drive easier on bumpy ground. And overload is alleviated by stepping on the Mowing parts lock pedal. Mowing parts lock sign flash when mowing parts is at the upper mowing position. You don't need to check the cutting height control lever.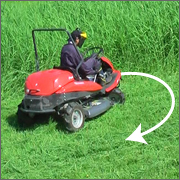 Swallow turn
Front main mission equippes wet Clutch for power transmission of rear wheel. Turning radius is 1900mm.

Rods
We put the center of gravity at the center of machine. It makes driving stable uphill.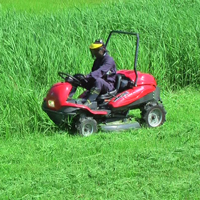 High tensil strength steel flame & working cover
The working cover is hard to change the shape and the body flame is stronger and lighter than ordinary pipe flame because of using high tensil steels.

Other equipments
"Jump-up seat", pumping and dumping easily with one lever.
"Safety bar", protecting driver at rollover.
Specification

Model
new!
MG1022X
Engine
Model
Kawasaki FS651V
Displacement(ml)
726
Type
Air-cooled,V2-cylinder OHVgasoline
Net output(kw/PS/HP)
14.1/19.2/18.9
Start up device
Starter motor
Capacity of fuel tank
(L /U.S. gal )
16/4.2
Mowing part
Mowing width (mm/in.)
970/38.2
Type of blade
1stay and 2 movable blades
Mowing height (mm/in.)
50-110/2.0-4.3
Work clutch
Belt tension and work brake which is interlocked with the work clutch
Driving part
Drive system
Variable speed HST
Speed
(km/h)
Forward
High: 0 – 10.0
Low: 0 - 4.6
Backward
High: 0 – 4.5
Low: 0 – 2.0
Base carrier
Front
4.00-7(φ400)
Rear
4.00-10(φ485)
Steering system
Round handle
Dimensions: total length x total width x total heightt (mm/in.)
2045x1055x995
80.5x41.5x39.2
Total weight(kg/lb)
335/738.7
Others
Head light
Standard equipment
Battery type
30A19R
Maximum work capacity(a/h)
80
Maximum angle of inclination
(degree)
Less than 20
*The specification may be revised for improvement without notice.
Option
| Photo | Product name |
| --- | --- |
| | Traction hook |