MD813M1
Maximum output13ps /
Mowing width (mm)800mm

Features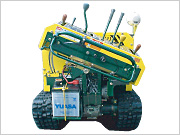 Movable operation panel
The operation panel can be moved manually up to 30 degrees to the right and left. It can be adjusted horizontal when operating the machine on a slope.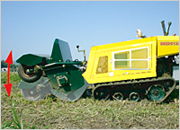 The mowing part lift can be operated easily with a hydraulic cylinder
This makes it easy to load and unload a truck and to climb over bumps during transportation and operation.

Floating mechanism incorporated into the mowing part
The mowing part automatically moves up and down, facilitating smooth and easy operation on a rough ground.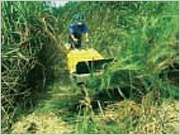 Designed for excellent traveling performance and safety
* Low center of gravity enables stable operation.
* A crawler is used for the traveling part for enhanced traveling performance and stability on rough grounds.
* The engine output is higher than is required for the prescribed mowing width, enabling efficient mowing of dense grass.

Specification
Model
MD813M 1
Engine
Model
Mitsubishi GM401PE
Displacement (ml)
391
Type
Air-cooled OHV gasoline engine
Maximum output (kw / PS)
9.6 / 13
Start up system
Starter motor
Capacity of fuel tank
(L/ U.S gal/ UK gal)
6/ 1.58 /1.32
Mowing part
Mowing width (mm/in.)
800 /31.50
Type of blade
54 movable hammer blades
on single shaft
Mowing height (mm/in.)
10 – 70 /0.39-2.76
Work clutch
Belt tension and work brake which is interlocked with the work clutch
Driving part
Drive system
HST with sub transmission
Speed (km/h)
Forward
High: 0-3.5 Low: 0-1.2
Backward
High: 0-2.1 Low: 0-0.6
Base carrier
Front
Crawler (width: 180 mm / 7.09 in.)
Rear
Steering system
Side clutch with gear dock
Dimensions: total length x total width x total height (mm / in.)
2170x970x980 /
85.43x38.19x38.58
Total weight (kg / lb)
347 / 764.32
Others
Headlamp
Standard equipment
Battery type
30A19L
Maximum work capacity (a/h)
23
Maximum angle of inclination (degree)
25
The specification may be revised for improvement without notice.