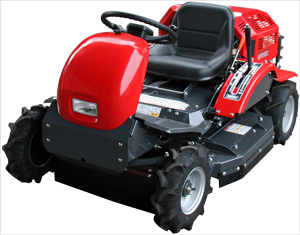 MF1018X
output(net power)15.4ps /
Mowing width (mm)970mm
Features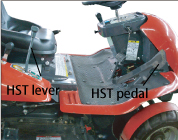 Standard equipments: HST Foot pedal & Hand lever
You can choose HST foot pedal or hand lever to drive.
When you let go of the pedal at your driving, the machine slows down at once. Pedal and lever are selectively used, as needed.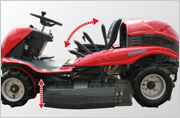 Free lock lever
Free lock lever makes easier control of mowing height.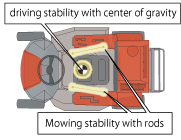 Rods
We put the center of gravity at the center of machine. It makes driving stable uphill. Rods make the machine mowing evenly.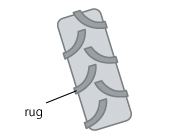 Large diameter front tire
"ノ"shape rug pattern prevents the machine sideslipping at circling. Ground contact area is up 7%.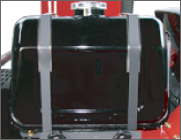 Large capacity fuel tank
Capacity of fuel tank is 16L. You can work for a long time.

Specification
Model

MF1018X

Engine
Model
Kawasaki FS541V
Displacement (ml)
603
Type
Air-cooled, V-twin OHV, gasoline engine
Net output (kw / PS)
11.3 / 15.4
Start up system
Starter motor
Capacity of fuel tank
(L / U.S. gal / UK gal)
16 /4.21 / 3.52
Mowing part
Mowing width (mm / in.)
970 / 38.19
Type of blade
1 stay and 2 movable blades
Mowing height (mm / in.)
30-90 / 1.18-3.54
Work clutch
Belt tension and work brake which is interlocked with the work clutch
Driving part
Drive system
No-stepped HST with sub transmission and differential lock
Speed (km/h)
Forward
High: 0-10 Low: 0-5.8
Backward
High: 0-4.5 Low: 0-2.6
Base carrier
Front
4.00-7, φ400
Rear
16x7.00-8, φ400
Base carrier
Front wheel: 4.00-7(φ400)
Rear wheel:16×7.00-8(φ400)
Steering system
Round handle with rack and pinion
Dimensions: total length x total width x total height (mm / in.)
1890×1060×890 /74.41x41.73x35.04
Total weight (kg / lb)
302 / 665.20
Others
Headlamp
Standard equipment
Battery type
30A19L
Maximum work capacity (a/h)
70
Gradient for operation
less than 15 degrees
*The specification may be revised for improvement without notice.
*Engine output signifies net output, and net power measurement test is based on
SAE J 1349. However, actual output is changed by various elements; engine speed, environmental condition, maintenance, and so on.
*Vehicle speed is indicated with the calculation value. Sometimes actual speed has nearly 10% loss because of road surface condition and, the pedal handling and the lever handling has speed difference.
Option
| Photo | Product name |
| --- | --- |
| | Traction hook |
| | Seat cover |