MB1021X1
Maximum output21ps /
Mowing width (mm)950mm

Features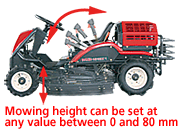 Free lock lever allowing stepless selection of mowing height
Gas springs are used to reduce the force required to operate the lever.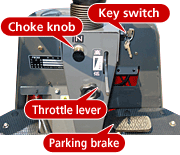 The operating system is concentrated in the steering wheel part.
The choke knob and throttle lever are located in the steering wheel part near the engine key switch for easy operation.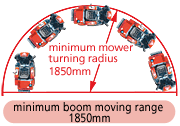 Minimum turning radius: 1850 mm
The large turning angle of the steering wheel makes it easy to make a U-turn at the edge of the field and enter a garage.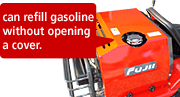 Compact cover and large-capacity fuel tank
The rear cover has a simple design. The fuel tank has a large capacity of 16 liters.

Specification
Model
MB1021X1
Machine dimension
(Total length×Total width×Total height)(mm)
1830×1060×860
Machine weight (kg)
315
Mowing part
Mowing width(mm)
950
Mowing part
Knife stay: 1
Free knife: 2
Mowing height (mm)
0~80
(Stepless adjustment)
Clutch, brake
Belt-tension system
(brake interlock)
Traveling part
Drive system
HST
(with auxiliary transmission and diff lock)
Vehicle speed (forward)
High: 0 – 10.0 km/h
Low: 0 -5.8 km/h
Vehicle speed (backward)
High: 0 – 6.0 km/h
Low: 0 – 3.5 km/h
Base carrier
Front wheel: 3.50-7(φ350)
Rear wheel:16×7.00-8(φ400)
Steering system
Round steering wheel, rack & pinion
Minimum turning radius(mm)
1850
Engine
Model
Kawasaki FH641V
Type
Air-cooled V type two cylinders
OHV Gasoline Engine
Maximum output
kw(PS)
15.4
(21.0)
Start-up system
Cell starter
Fuel tank(L)
16
Others
Headlamp
Standard equipment (always on)
Battery type
30A19L
Maximum work efficiency
80a/h(Auxiliary transmission, high speed)
Maximum gradient for operation
15 degrees
*The specification may be revised for improvement without notice.
Option
| Photo | Product name |
| --- | --- |
| | Hour meter |
| | Seat cover |