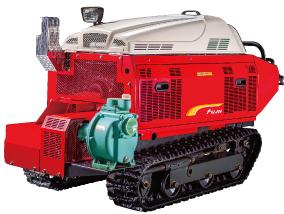 LA20DM
Features

The engine revolution counter is set on
the operation panel.

You can choose the most suitable amount
of discharging water by the throttle operation,
enable to work with great efficiency.


Excellent workability
The pump is placed offset to the left front for easy hose connection.
Use 4 inches (B beltx3 ) of drive pulley, which is safe even for long hours of work.


Excellent mobility
Travel part demonstrates high running performance with the suspension of full crawler with
extensive achievements.
Possible to adjust the speed finely with HST (with sub transmission).

Reliable maintenance
Fujii is a long-time partner and stays close to our customers with steady supply of spare parts
and technical support.

Specifications
Model

new!


LA20DM
ENGINE

Model
Mitsubishi L3E
Type
Water-cooled diesel engine(3 cylinder)
Maximum output
14.7 kw / 20 ps / 19.7 hp
Fuel tank capacity
25 L
Start-up system
Starter motor
Displacement
952 cc
MOUNTED PUMP
Model
Karui KLO-651
Maximum discharge amount
105 0L/min.
Pulley size
4 in. (LB-35 3 belts)
Diameter
6 5mm / 2.6 in.
DIMENSIONS
Total length
2265 mm / 89.2 in.
Total width
1133 mm / 44.6 in.
Total height
1115 mm / 43.9 in
Total weight
650 kg / 1433.0 lbs
TRAVEL SECTION
Travel system
HST Variable speed(with Sub trasmission)
Travel clutch
Belt tension
Side clutch
Dog clutch