Business Unit concept
"Innovative "3-less" processing of metal parts by merging the die knowhow with high-speed composite fabrication"
Introduction of technical products
Hyper composite processing
Innovative processing of metal parts by achieving the "3-less"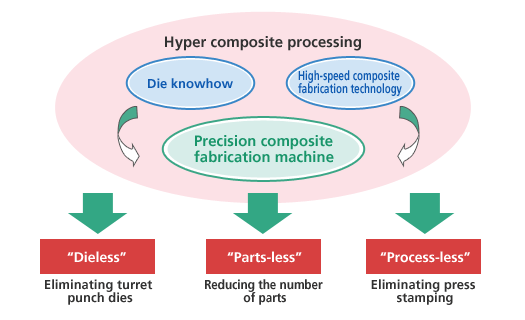 Dieless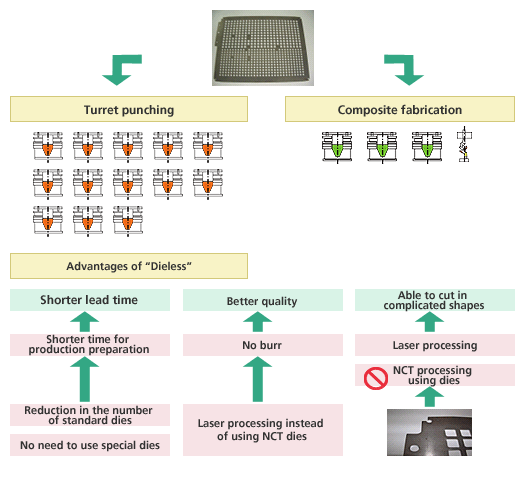 Parts-less
Collaboration of special dies with composite fabrication I: Combining two parts into one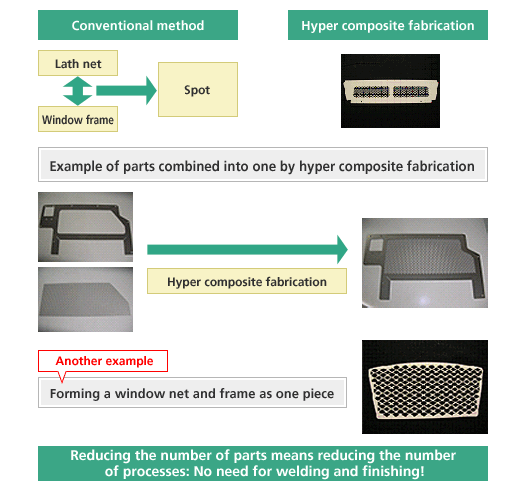 Process-less
Collaboration of special dies with composite fabrication II: Combining two processes into one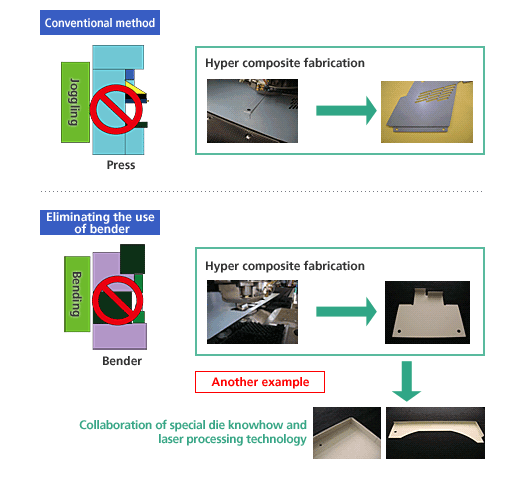 Steel Material Business Unit information
Business details
Sheet metal working and processing and sale of steel materials
Products
* Composite fabrication parts: up to 3.2 mm
* Laser processed parts: up to 19 mm in thickness
* Commissioned processing of coils
* Sale of steel materials
Sheet metal working
Punch Laser Combination machine (TRUMPF TC6000L)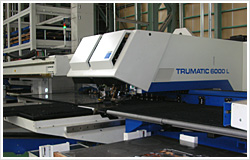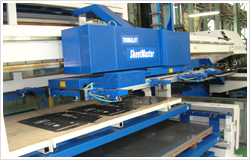 A state-of-the-art combination machine capable of punching, laser processing and forming in a single clamp.
Equipped with an 8-stage material stocker to supply materials and a sheet master to suck and transport workpieces, this machine is able to operate for 24 hours, contributing to shorter delivery period.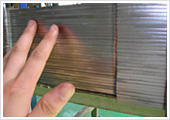 * Clean cut processing
As nitrogen gas is used as the standard assist gas, the cut surface is free from oxide layer and looks beautiful, unlike that of laser processing that uses oxygen gas.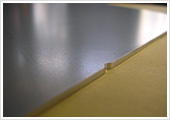 *High-speed, high-quality burr-less processing
Burr and dross are a big problem affecting the subsequent processes.
Use of a high-speed, high-precision machine can alleviate this problem. Moreover, the small chamfering in the subsequent process can be integrated with the combination of a V-cut tool and a laser.

* Processing technology of combination machine
Punching that controls the warpage of the areas of small frame width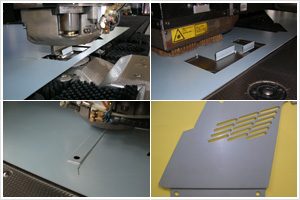 *Integration of the operations in the next process and elimination of dies by means of forming tools

Laser machine (AMADA FO3015)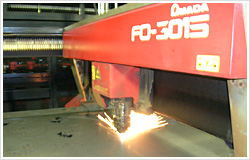 Able to cut sheet metals of up to 19 mm in thickness. Equipped with a 6-stage material stocker, this machine can operate 24 hours like the combination machine.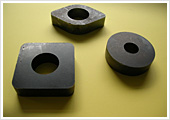 * Replacing cutting with laser processing
Since this machine is able to cut ordinary steel sheets of up to 19 mm in thickness, it can make flanges by cutting metal sheets instead of grinding round bars, thus reducing the number of processes.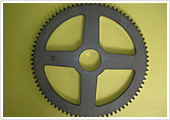 * Gears
Please specify the tooth number and depth as well as the shape of the gears you need. We will make them with gear fabrication software.

Commissioned processing and sale of steel materials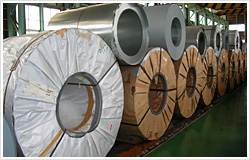 With large leveler and slitter lines, we function as a coil center and are engaged in the sale and commissioned processing of steel materials.
Items handled:/ Cold-rolled steel sheets, pickled steel sheets, high tensile steel sheets and surface treated steel sheets
Suppliers:/ Kobe Steel, Nisshin Steel and Tokyo Steel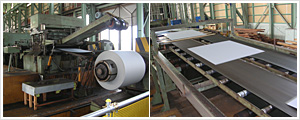 * Leveling
Thickness: 0.4 mm – 2.3 mm
Coil width: 600 mm – 1250 mm
Minimum cutting length: 500 mm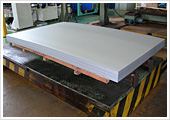 We cut sheets to standard and other sizes as per customer requests.

* Slittering
Thickness: 0.4 mm – 3.2 mm
Coil width: 500 mm – 1300 mm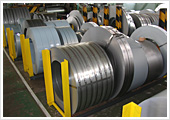 The number of strips depends on the thickness. See the slit number table.
>>Click here for slit number table.