Business concept
"Customers love press parts, but hate press dies. " Therefore, we create the technology of "Dieless" forming.

   |
Forming without dies
Introduction of technical products
Dieless press work
Making press parts without using dies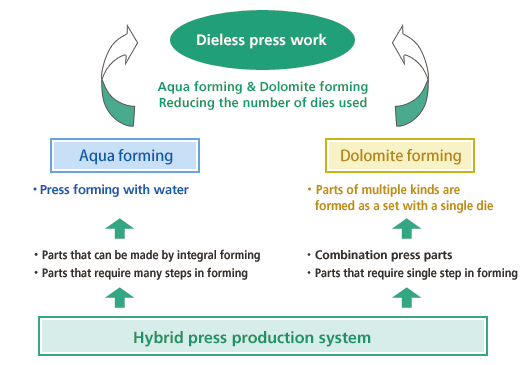 Blanking by 2D laser processing
↓
Press forming
↓
Piercing and trimming by 3D laser processing
Aqua Forming
Use of Aqua Forming Process has reduced the steps in forming and the number of dies to be used.

Normal die
Aqua die
Dolomite forming
Use of Dolomite forming has enabled forming of parts as sets, thus reduced the number of dies to be used.
What is "Dolomite forming"?
 *A method to form multiple kinds of press parts as a set with a single die.
 *It enables forming of parts in the same complex' realizing one-piece-at-a-time production.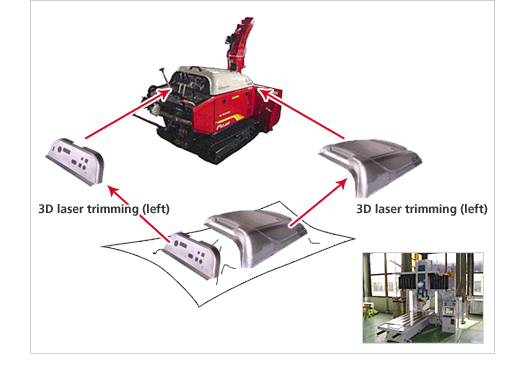 Normal die
Dolomite die
*Origin of "Dolomite"
The Dolomites centered around Cortina d'Ampezzo in northern Italy are a world-famous ski area, consisting of odd-shaped mountains (See the photo on the left). Since the shape of the parts formed as a set is like that of the Dolomites' this forming method was named Dolomite forming method.
Hybrid press production system
Dies other than the press forming dies are not necessary!
Process
Normal pressing
Hybrid production system
Machine used
Die
Machine used
Die

1.Blanking

Press

2D laser processing

2.Forming

Press

Press

3.Piercing' trimming

Press

3D laser processing
How to make press parts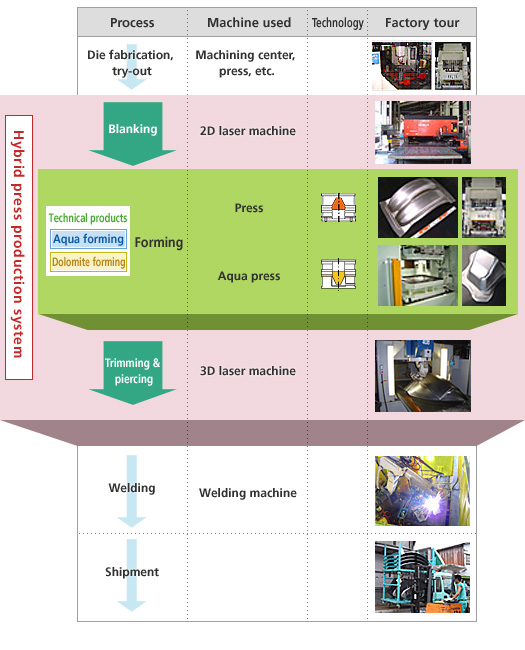 "Dieless" press business information
Business details
Press forming of multi-type/small-quantity parts and large parts
Production of difficult-to-form parts by the Aqua forming press
Integrated production from die fabrication, painting to assembly based on product drawing
Making proposals for total logistic cost reduction by set delivery, sequential delivery, etc.
"Dieless" production by 2D and 3D laser machines except for the areas that require forming
>>Click here for Aqua forming press details (PDF file / 156KB)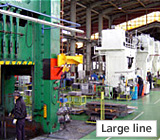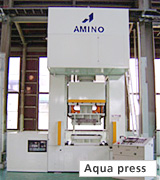 Products
* Farm machinery parts
Fabrication of combination parts
Able to meet requirements for various delivery systems
* Construction machinery parts
Fabrication of large panels
* Automotive parts
Press stamping of parts in small to medium lots
* Outdoor lighting equipment parts
Tunnel lighting equipment, road lighting equipment, projectors, etc.