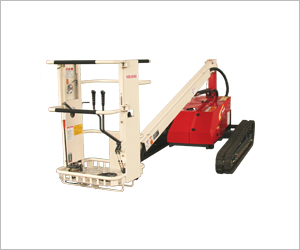 HB350M
Maximum output6.3ps


(PDF catalog/1.65MB)
Please Enquire for further information.

Features

More safety style
Travel clutch lock, Starting safety mechanics, Control travel speed mechanics, and Safety gard give you safer work.

Simple operation system
* It is easy to work turning and up-down of the boom by pedal side your foot.
* It is smooth to restart the engine for equiping with choke lever in hand newly.

Improvement in maintenance
* Rising cylinder lock mechanics gives you safer inspection and maintenance to fix the boom.
* It is easy to inspect and repaire the engine cover without tool.

More comfotable operation
To reduce swing and noise at time of work to adopt the rubber to keep from swing.

Specification
Model
HB350M
Dimension
(Total length x Total width x Total height) (mm)
3180 x 1280 x 1295
Weight (kg)
413
Traveling part
Drive system
Single step (forward)' single step (backward)
Vehicle speed (forward)
While traveling: 1.8 km/h
While the boom is ascending: 0.9 km/h
Vehicle speed (backward)
While traveling: 1.8 km/h
While the boom is ascending: 0.9 km/h
Base carrier
Rubber crawler
width: 160 mm
Steering system
Side clutch (Gear dock)
Engine
Model
Mitsubishi GM182LE
Type
Air-cooled OHV gasoline engine
Maximum output kw(PS)
4.4(6.0)
Start-up system
Cell starter (recoil)
Fuel tank (L)
3.8
Work stand
Maximum load capacity (kg)
100
Ground height of the floor (mm)
260-3500
System
Boom system (hydraulic)
Traveling range (when the boom is horizontal)(mm)
1770 (traveling distance of the gondola center)
Traverse angle
18 degrees to the right and left respectively
Battery type
30A19R
* This specification may be revised for improvement without notice.
* The maximum gradient for operation is 5 degrees.
Option
| Photo | Product name |
| --- | --- |
| | Sheet cover |
| | Container stand |
| | Weight |