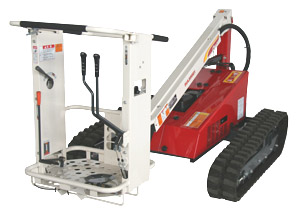 HA250M2W
Maximum output6ps

HA250M2
Maximum output6ps

Features

Wider crawler equipped (HAW250M2W)
HA250M2W is equipped with a crawler 200mm wide. right and left fall angle and you can work safely at slope ground.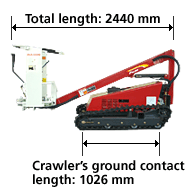 Simple and easy-to-use small machine
Although reasonably priced' this is a user-friendly and well-equipped machine with an optimum gravity balance.
Because it is compact' it is easy to turn and occupies less storage space.
(Boom length: 2000 mm / Distance between crawlers: 1120 mm)

Safe and comfortable gondola
The gondola is equipped with a holdable hand-grip for easy entry and double-locked to ensure safety during work. The height of the step guard is adequate to make it easy for the operator to get into the gondola.


Easy-to-operate hydraulic boom
The boom is hydraulic and easy to operate with a foot pedal of the gondola. It is designed to prevent a sudden drop while the boom is descending.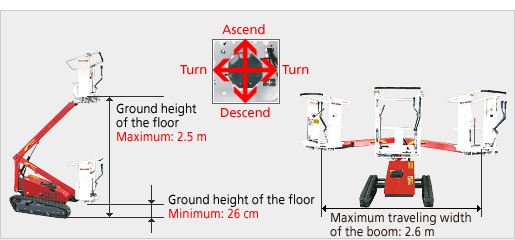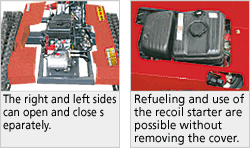 Engine cover enabling easy maintenance
The engine cover can also be removed when the boom is at the lowest position. Refueling and use of the recoil starter are possible without removing the engine cover.

Security design and wide-ranged options
* Security design that automatically lowers the engine rpm when the boom goes above horizontal.
* Wide-ranged options' such as weight' container stand' seat cover' etc.

Specification
Model
HA250M2W
HA250M2
ENGINE
Model
Mitsubishi GB181LE
Type
Air-cooled, 1 cylinder OHV, gasoline engine
Maximum output
4.6kW / 6.3PS /6.2HP
Net output
-
Fuel tank capacity
3.6L / 1.0U.S.gal
Start up system
Starter motor & recoil
Engine displacement
-
WORK
PLATFORM
Maximum loading capacity
100kg / 220.5lbs.
Platform height
260-2500mm / 10.2-98.4in.
Type
Hydraulic boom
Moving range *1
2600mm / 102.4in.
Turning angle of boom*2
37 degree
to each of left & right
DIMENSION
Total length
2440mm /96.1in.
Total width
1320mm /52.0in.
1280mm/50.4in.
Total height
1160mm /45.7in.
Total weight
375kg /826.9lbs.
335kg/738.5lbs.
DRIVING
PART
Drive system
One step for forward and one for backward
Speed
Forward
1.9k/m
(0.9 with the boom up)
Backward
1.9k/m
(0.9 with the boom up)
Base carrier
Crawler
(width: 200 mm /7.9in.)
Crawler
(width: 160 mm /6.3in.)
Steering system
Side clutch with gear dock
OTHERS
Battery type
30A19R
*1 The distance is of the center of the work platform when the boom is horizontal.
●The maximum angle of inclination for use is 5 degrees.
Option
| Photo | Product name |
| --- | --- |
| | Sheet cover |
| | Container stand |
| | Weight |