We develop technologies that support society.

Aqua press
Press forming that achieves forming of complex shapes and reduction of die cost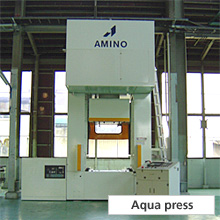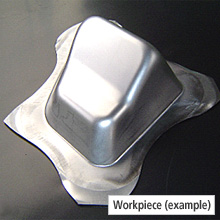 Features
High dimensional accuracy with strong grip of dies
Less shock lines in forming and less surface scratches on pressed parts due to the use of liquid
Able to form complicated shapes that are impossible with conventional mechanical presses
Reduction of production steps by expanding the limit in deep-drawing
Reduction of die cost as liquid is used for the die
>>Click here for details of fluid forming
Combination machine
A state-of-the-art combination machine able to perform punching',laser processing and forming at one clamp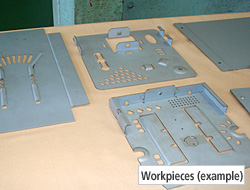 Features
Clean cutting
High-speed,high quality burr-less machining
Stamping at a small frame width, controlling warpage
Integration of multiple steps and dieless machining by the use of forming tools
"Stable" function
Snowblower designed to control overhang and make the hand grip height constant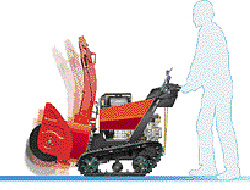 Features
Compact snow removing part connection realized by the original technology
Reduced overhang by making the snowblower light and compact
Improved traveling performance
Improved operability
Easy operation with constant height of hand grips
"Lock-on" snow throwing function
Automatically controls the shooter to throw snow in the desired direction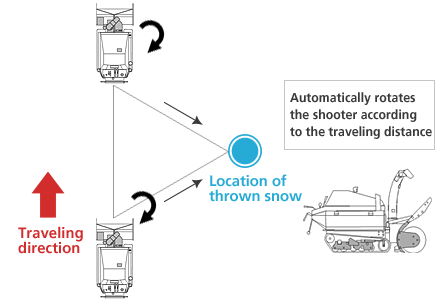 Features
The shooter turns automatically to concentrate snow at one location.
The shooter turns according to the traveling distance.
Snow throwing distance is adjustable.
Operation is easy as the hand grip height is constant.
* A video on the lock-on snow throwing function is available.


Powder painting
Powder paint is used in the paint process.
It is all made of solid materials and no organic solvent (thinner, etc.) is used.
Therefore, it makes significantly less impact on the environment as compared to solvent-based paints.
Advantages of powder paint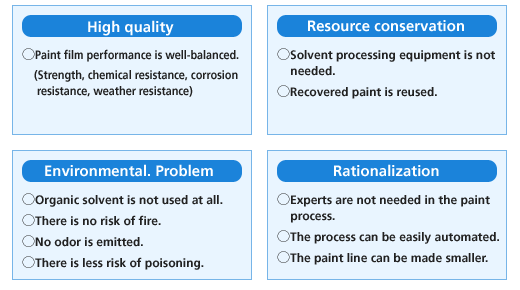 We use paint and equipment that are environmentally and economically viable.